Yesterday I was browsing through some recommended articles on my phone and I came across an article listing "The Fastest CPUs of 2023", from a website I won't name here. That grabbed my attention, so I decided to give it a read… and was disappointed. So here I am, making a arguably biased better article about the same thing!
The original article talked about fastest CPU for servers, PC, laptops and games. In this one, I'll go over those same things, but also add phones(no iphone/Macbook however, as those are pretty obvious. Latest, most expensive one from apple for those platforms will be the fastest). I'll also add in reasons for why I picked each one of them.
Fastest Server CPU
Picking the fastest server CPU is pretty easy. AMD has been releasing absolute monsters in terms of performance and efficiency in the past few years. So for server CPUs, I pick AMD EPYC 9684X. This behemoth has 96 cores, 192 threads, runs at 2.55GHz base clock and 3.42GHz all cores when the boost kicks in(individual core clock is 3.7GHz). It makes use of PCIe 5.0, having 128 lanes and 12 memory channels(up to 4800MT/s).
The X series of EPYC Genoas has 3D V-Cache technology. This means that, for the 9684X you get 1.1GB of L3 cache, far more than I've seen in ANY CPU. On top of that, it also comes with AVX-512, speeding up AI applications absurdly. And all that consumes just about 400W(Compare this with intel's 4th gen Platinum 8490H Scalable Processor that uses 350W while having far less cores, cache, etc and you'll notice just how far ahead AMD is).
And for those wondering why I picked that one in specific, and if I compared it to the recent AMD "Bergamo" 9754, yes I did compare. Here is one of the articles I read through.
Fastest PC CPU
PCs don't need as many cores, nor as much cache, so the pick here is something that has the absolute best average performance for common workloads. In here, the cake goes to Intel's i9 13900KS. For as much as I tend to prefer AMD, if we're going for absolute best performance on a personal computer, that CPU has the absolute best average single core: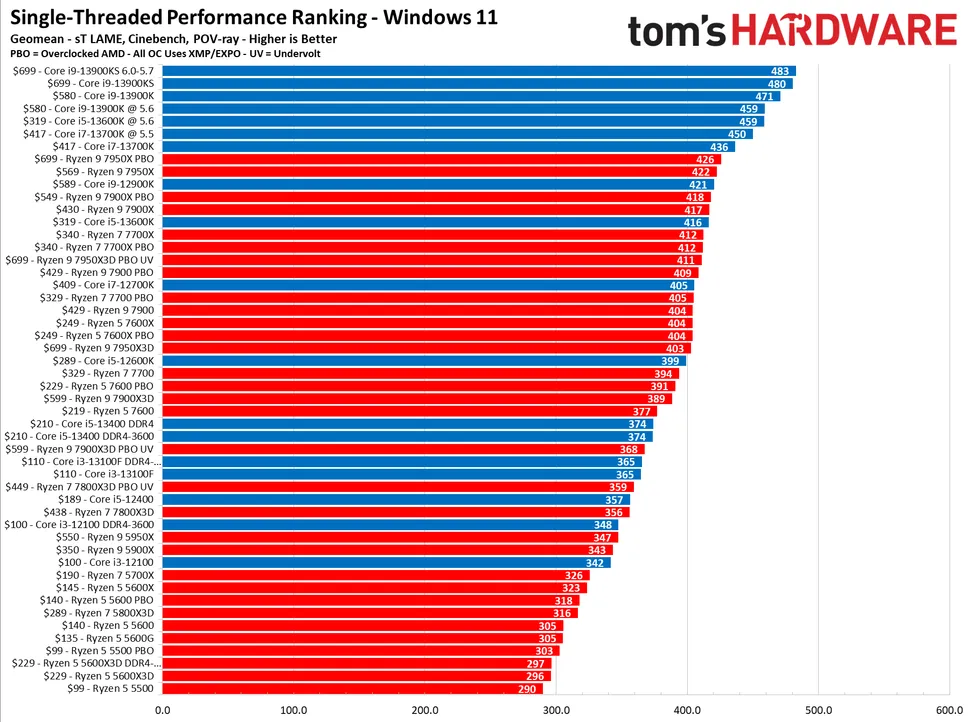 Intel's Big Little architecture gives them the edge on single core. That plus the absurdly high clock, that can boost to 6GHz, gives it the number one spot. For multicore, AMD closes the gap, but still doesn't get past second place(though by just a small margin):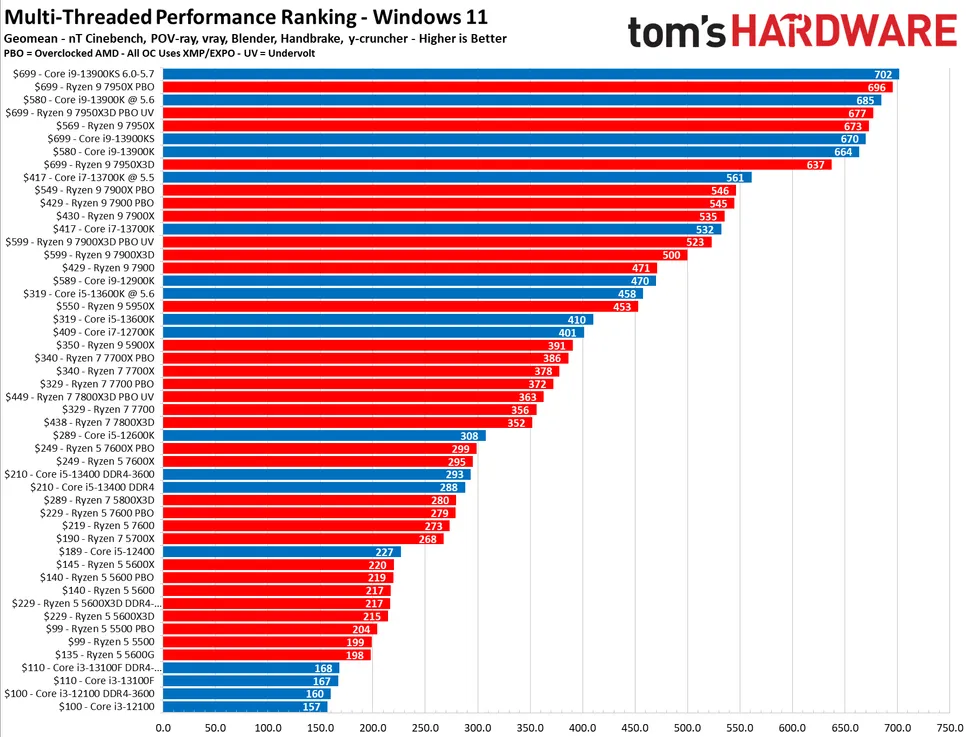 Beware though. Intel has been having difficulty lowering their transistor size, so their performance pushes came with need for equally powerful cooling solutions, mainly if you expect to overclock it.
Fastest Laptop CPU
Laptops are a very special case. While manufacturers will always try to push for performance, efficiency is a much more important matter for them, because of battery and cooling being limiting factors. This means that the fastest laptop CPU will still consume a much less electricity than PC ones.
That out of the way, the fastest laptop CPU is AMD's Ryzen 9 7945HX. It has 16 cores, 32 Threads, runs at 2.5GHz by default, boosting up to 5.4GHz. L3 cache is also pretty high, at 64MB(mainly compared to 36MB from intel's competitor, i9-13980HX). The most impressive thing here however, is its TDP: Just 55W. Here's a video comparison/benchmark of a laptop running the CPU:
Fastest Gaming CPU
This has been debated many many times, and at this point it is basically a consensus. Ryzen 7 7800x3D is the overall best gaming CPU out there. It has 96MB of L3 cache, runs at 4.2GHz, boosting up to 5GHz, has 8 cores, 16 threads and 120W TDP.
Why 7800x3D instead of 7950x3D? The answer is simple: CCDs. AMD made the terrible decision to put all the 3D V-Cache on top of a single CCD instead of in the middle like previously, resulting in performance being hurt when you have all cores enabled during games, since half of the cores sit on a separate CCD. The 7800x3D doesn't suffer from it because it has only 8 cores, which means all of them are packed inside the same CCD.
You can learn more about it in this video(and also see some benchmarks on the CPU):
Fastest Phone CPU
Now, while researching for this article, this part in specific surprised me. For years now, snapdragons have been the absolute best in terms of performance AND efficiency in the phone market, however early this year, the Dimensity 9200+ (or Dimensity 9200 Plus) was released, and wow. Coming with 8 cores(1 Cortex-X3 for Max performance at 3,35 GHz, 3 Cortex-A715 for High performance at 3 GHz and 4 Cortex-A510 for Efficiency at 2 GHz), the aggressive overclocking on top of having latest gen ARM cores gave it a solid margin above the second place on antutu, the Snapdragon 8 Gen 2(obviously, at the time of writing this).
Get articles on your E-mail